Two Way SMS messaging means you can send SMS messages and also receive back SMS from your audiences on the same number, resulting in a conversation between your business and consumer over text messages.
Many brands, businesses and retail giants are adapting to two way SMS marketing just as much as they use the traditional one way SMS.
Using two way SMS in your marketing strategy should be highly considered these days given its benefits and efficiency. It has many benefits and is a cost effective way to create a relationship with your customers. Read on to find out more about why two way SMS is essential for the success of your business.
Benefits of Two Way SMS Messaging
Two way SMS provides a quick solution to customer concerns. With a 98% open rate, SMS messages have a higher read rate than other modes of communication such as emails. A proven high response rate for SMS ensures you that you're not wasting your hard-earned money on this.
Save Money with Low Cost of SMS & High ROI
In regard to setup and running costs, SMS campaigns have lower fees in comparison to other types of marketing whilst the return of investment is higher as customers are more likely to acquire your service or buy your products again since you are dealing with people who are already your customers or have willingly provided their mobile number to receive your marketing messages about promos, sales or new products or services.
Drive Engagement & Gain Valuable Feedback
Feedback and reviews are crucial to any business growth and development. Two way SMS makes responding to feedback requests, quick and simple for customers, making them much more likely to be engaged and to give immediate and honest thoughts about how your business perform. Hence, this simple gesture makes it easy for you to enhance your customers experience and gain valuable insights.
User Friendly Interface
With two way SMS messaging, you will be able to manage, monitor and track reports of responses of your incoming messages you send and receive without hassle from an intuitive platform.
Quick and Flexible Responses
Unlike email which can be slow and less interactive, SMS is a simple and immediate exchange of messages. Using two way SMS is constant and flexible, you can send a message to hundred recipients within minutes. SMS is definitely something that has been proven effective to keep up with the times in changing trends or ways of marketing your business.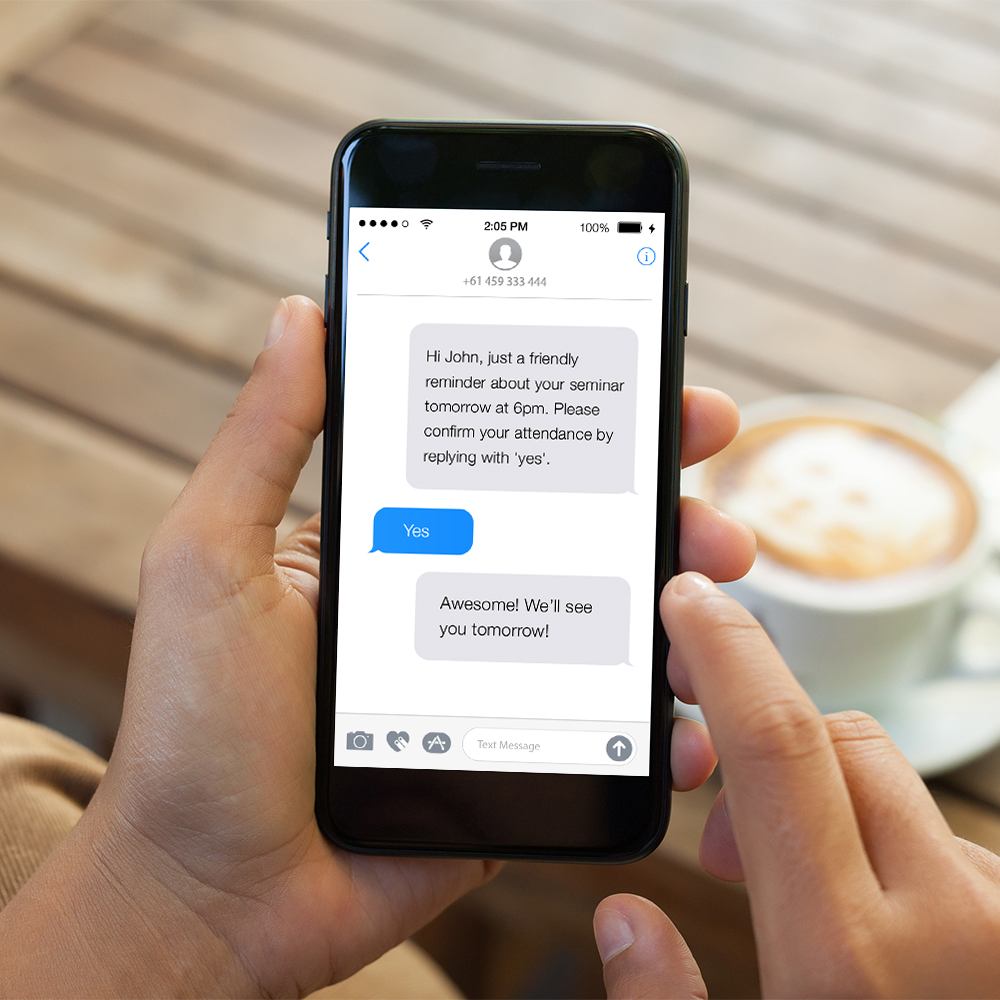 Improve Customer Satisfaction & Interaction
As the read rate of SMS messages are incredibly high, customers can just reply to your messages to found out more about what you have in store for them and get more information immediately. Offering fast, high quality services will keep your customers happy and satisfied creating a personal connection. Also, strengthen your customer loyalty by targeting directly and giving a personal touch to your marketing would enable better chances of conversion.
Widespread Access
The vast majority of people now own a mobile phone, be it a smart phone or feature phone. This makes SMS messaging one of the best ways to contact and reach customers.
Take advantage of Two Way SMS Messaging & Integrate Into Your Business
Two Way SMS can be used by businesses for a lot of different cases to increase sales and boost their revenues. The engagement between businesses and consumers has become more important as customers no longer want to wait for longer times to receive feedback and answers to their questions.
With two way SMS, sharing information becomes much easier as customers can reply to the messages and get instant information about products, services, promotions, and offerings. And with a feature like instant/automated responses, order generation and improved customer service are a greater alternative to an otherwise time-consuming process.
Your business can leverage two way SMS and improve your communication with your customers, colleagues and partners and interact with them personally and effectively. Let them contact you anytime or run engaging marketing campaigns, loyalty programs, polls/surveys, competitions/raffle draws and so much more, through a single connection point.
Beem's two ways SMS solutions can help you to build and grow your customer relationships whilst sustaining your business.