Schools and educational institutions have to grapple with sending vital information to hundreds if not thousands of parents at once. Traditionally schools have used paper based flyers sent with students, emails and phone calls. Flyers can get lost and are expensive, emails can get missed easily and people do not always pick up phone calls.
What do learning institutions need to communicate?
Promotional messages for new admissions

Fee dues and holiday notifications

Important exam dates and timetables

Parent teacher meeting reminders

Result notification

Covid-19 pandemic alerts ( online schedule changes, class reminders etc)
SMS can be a highly effective communication tool for learning institutions and could help many of the challenges with alternative communication methods. SMS is:
Convenient.

Easily accessible to all on any mobile device

SMS has a high open rate upto 98% according to some studies

It is very affordable. Schools can make huge savings by cutting back on their use of paper.

It allows the institution to reach thousands of students, parents, staff members in one go.

Instantly access the entire student body in emergency situations. A text message can be delivered within 5 seconds.

Can be combined with a SMS shortcode to quickly conduct surveys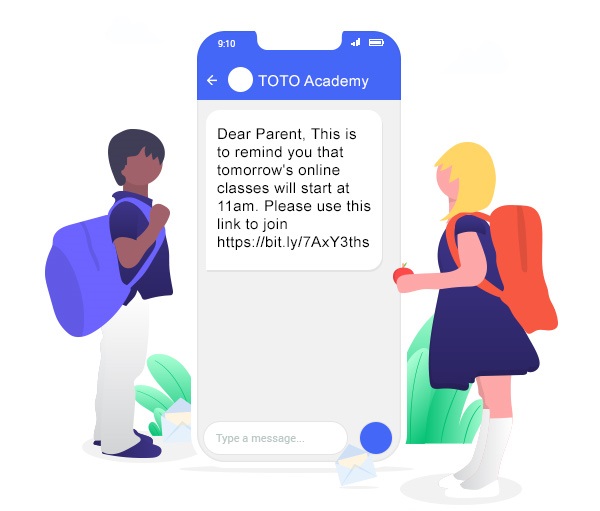 Boarding schools particularly face significant challenges in communicating with parents. A small survey conducted by Beem on parents of school going children in Tanzania showed that some of the challenges faced were:
Parents did not receive the necessary information from school at all or

Parents did not receive it in a timely manner or

The content was communicated verbally to the child and the child was unable to relay the information appropriately.
The benefits of using SMS are many. Learning institutions can reduce their cost significantly by going paperless. They can also save time and make their processes more efficient by avoiding multiple calls and emails to parents. A simple example would be instead of the school printing 800 paper copies of the school calendar to be given to each child, the school could send out an SMS with a calendar link so that each parent can access the calendar when required. This improved communication would also allow parents to organize themselves and have enough time to prepare for fee payments, field trips, upcoming events etc.