Chatbots are made to ease the pain that the industries are facing today. This is the claim as a result of the rise of chatbot technology but how true is this statement? In this article we will be highlighting some awesome benefits and tips of using chatbots to both customers and businesses.
A chatbot is basically a computer program that can interact with humans over the internet. Their purpose is to support and scale business teams in their relations with customers. Doing this helps businesses save a lot of money which is why many business owners are adopting this technology.
Chatbots may sound like a futuristic notion, but according to Global Web Index statistics, it is said that 75% of internet users are adopting one or more messenger platforms. Although research shows us that each user makes use of an average of 24 apps a month, wherein 80% of the time would be in just 5 apps. This means you can hardly shoot ahead with an app, but you still have high chances to integrate your chatbot with one of these platforms.
Below are some of the benefits that chatbots provide:
Benefits to Customers
Accessible anytime; chatbots are basically virtual robots so they never get tired and will continue obeying your command and can operate every day throughout the year without requiring a break. Except maybe when they are down due to security issues or maintenance. Such accessibility, improves your customer user experience and helps you rank highly in your sector.
Saves time; Chatbots can provide automated answers to most questions instantly. Their use prevents customers from waiting a day or longer to receive responses as they would have in the past. This allows your business to serve greater numbers of people while increasing productivity and decreasing costs.
Provide consistent answers; Chatbots help cut down on errors that could be caused by human beings such as forgetting bits of information or typo mistakes. Based on the questions asked they will always give similar, consistent responses. This makes them a huge asset when used in your business.
Provide customer satisfaction; Humans react to others based on their mood and emotions. If an agent is in good mood he will most probably talk to customers in a good attitude. In contrary to this the customer will not be satisfied. This is not the case with chatbots. Chatbots are bound by some rules and obey them as long as they're programmed to. They always treat a customer in the most polite and perfect way no matter how rough the person is. They can also be programmed to have a bit of humor to seem more human like putting customers at ease and make their experience with your business more satisfying.
Personal assistant; People can use bots as a fashion adviser for clothing recommendations, or ask trading tips from a finance bot, suggest places to visit from a travel bot and so forth. This would help the users get a more personal touch from the chatbot. Also, the chatbot are trained to remember all your choices hence can provide you with relevant choices the next time you visit it.
Benefits to Businesses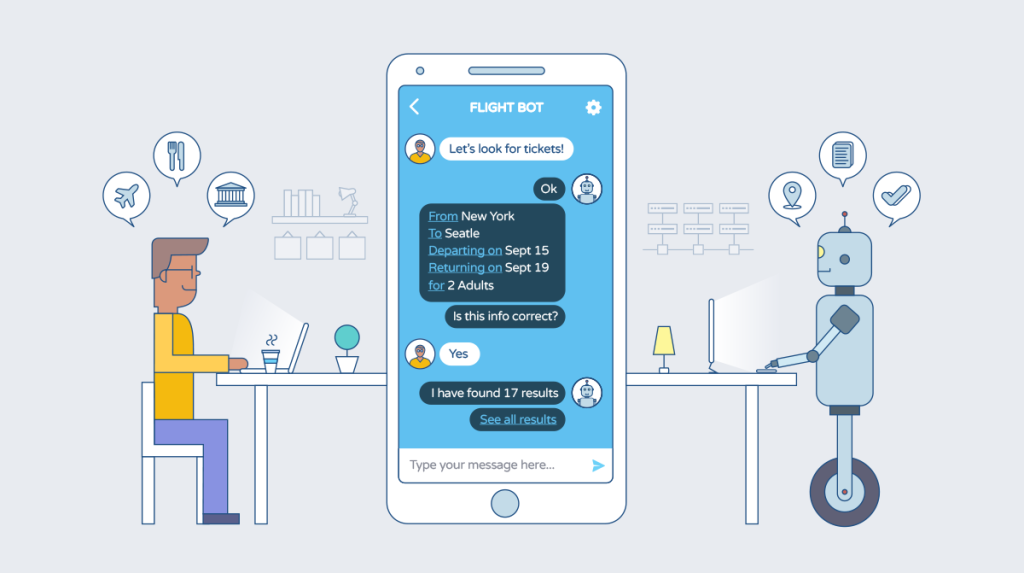 Increased Customer Interaction; Unlike humans who can only communicate with one human at a time, chat bots can simultaneously have conversations with thousands of people. No matter what time of the day it is or how many people are contacting you, every single one of them will be answered immediately. Chatbots help you reach more people which can increase your customer base.
Cost Effective; As your business grows, you are bound to have to employ more staff who will need to be paid for the work they do. Chatbots on the other hand are a onetime investment which helps businesses reduce down on the number of staff required. This would drastically bring down the expenses and bring about a steep rise in revenue and customer satisfaction.
Flexible attribute; Chatbots have the benefit that it can quite easily be used in any industry. Unlike other products where you have to do a lot of development and testing to change platforms, chatbots are relatively easy to switch. One has to just train the bot by giving the right conversation structure and flow to switch its current field or industry. Or if there is a lot of back and forth between two sections of the industry say customer support and sales, then you could have custom built presets which would already have the conversation flow and structure to carry out the interactions with the user.
Alternate sales channel; Chatbots can sell your products for you because they're online 24/7. Your business can leverage on this opportunity to sell products which would suit the needs of each customer. Also, chatbots will remember a customer's answers and tailor their responses. In doing so they create a personal level of service that closely mirrors human interaction.
Work automation; People tend to be less productive when given a recurring job or work. We humans usually get bored doing the same thing over and over. With these benefits of Chatbots now help automate tasks which are to be done frequently and at the right time.
It's important to make your business the best it can be to generate greater success and profits and while the benefits of chatbots may seem clear, how your company should use them is more complicated as it depends on the company's line of business.  As seen above, there are lots of benefits of using chatbots some of which may not be mentioned here that can help your business succeed.